CLICK HERE TO SIGN THE GUESTBOOK
LAST UPDATED 7-23-05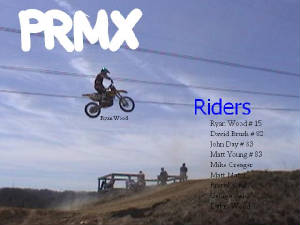 July 23, 2005
I have a picture website with a bunch of great shots..GO CHECK IT OUT
RMZ250racing15 - - - - Photo Album
June 23, 2005
Preview for OVER THE BARS 2005 is complete. Go check it out in the Gallery / Videos section.
The Full movie is expected to be completed around september.
June 12, 2005
I made a "Poster Type Thing " for me.....Go check it out
May 14, 2005
I went up to my camp and did a huge water roost..Go check it out in the pictures...
May 11, 2005
OVER THE BARS 2005::::Chapter 5 is done. Chapter is called "Ryan Wood and the Walking Wheelies" See some pictures in the gallery/videos..
May 7, 2005
NEW VIDEO!!!! Ryan Wood doing a stoppie on his RM-Z250...Check it out in the Gallery/Video section!!
April 30, 2005
Over The Bars 2005 is going great. I need some music. If you have any good songs you would want to see in the movie just sign the guestbook with the song.
April 22, 2004
Want to be in OVER THE BARS 2005 (OTB2005)???? To be in the movie, you have to:
- Be funny
- Be good at some kind of extreme sport
- Be willing to risk your life for laughs (Really)
If you said ok to these questions, contact me on my cell phone (724-799-0420) to be apart of the greatest film that "Backyard Films" has every made. GO TO OVER THE BARS 2005 LINK ON THE SIDE FOR MORE DETAILS!!!!!
April 22, 2005
Last chance to buy a copy of OVER THE BARS 2004!!!! 2 copies left!!!!!!!!!!!!!
April 21, 2004
NEW PICTURES from my camp.........
April 11, 2005
New Pictures. There is a video from high voltage mx park in the gallery/videos page. CHECK 'EM OUT
April 3, 2005
Check out the intro for Over The Bars 2005. It's not done yet. The music and starring parts are not complete. There will be more added.
March 29, 2005
Want to see how Over The Bars 2005 is going?? Click the link below to see a section of the Snow Riding we did. Brian Datt is the camera man and Ryan Wood is the rider.
March 28, 2005
All pictures have been removed from the site to make space for the new coming pictures.
March 12, 2005
Deer Lakes has challenged Pine-Richland to a Paintball game.. Deer lakes has already got their team, so if you want to be on Pine-Richland, contact me (jwoodydrtbikes15) or 724 799 0420.
March 11, 2005
Remember that power going out tonight????If you don't, ask Mike Greager!! Here's the story. Wood, Tim, and Mike were getting ready to go on mike's computer. As soon as Mike turns on the moniter, BAM!!! Pine-Richland, Hampton and Indiana Township loose power. Thats one reason it could of went out. The other is, Wood was sprayin a light bulb with AXE at that same time. Soo, you decide.